Are you looking to improve your race times? Stephanie Holbrook is a coach, nutritionist, and biohacker with over 15 years of experience helping athletes like you achieve their best performances. In her podcast, she provides the latest training tips, sports nutrition advice, and biohacking techniques to help you train smart and race fast. You'll learn how to optimize your performance by incorporating the latest science-backed methods into your training routine. Whether you're a triathlete, cyclist, or runner, Stephanie has something for you. Listen to one of Stephanie's podcasts now!
Episodes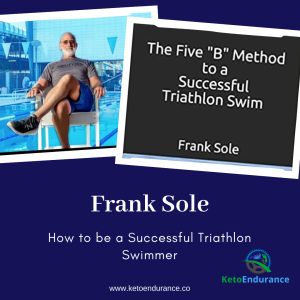 Thursday Nov 12, 2020
Thursday Nov 12, 2020
Frank Sole discusses his new book The 5 B's of to a Successful Triathlon Swim. Many triathletes did not grow up swimming. Some coaches say we are doomed to have a poor triathlon swim. Then comes Frank Sole, he is your solution to a poor triathlon swim. He has spent the last few decades helping less than spectacular swimmers become exceptional swimmers and triathletes. 
You can find Frank at Sole Swim Solutions. He provides online and personal technique-driven, triathlon swim coaching. He has helped me become a better swimmer and he can help you too.
Need help becoming a fat adapted athlete?  Work with me. One-on-one and group coaching.